The Stone Terraces 2021 Vintage Port
This is the fifth edition of this remarkable micro-terroir Vintage Port.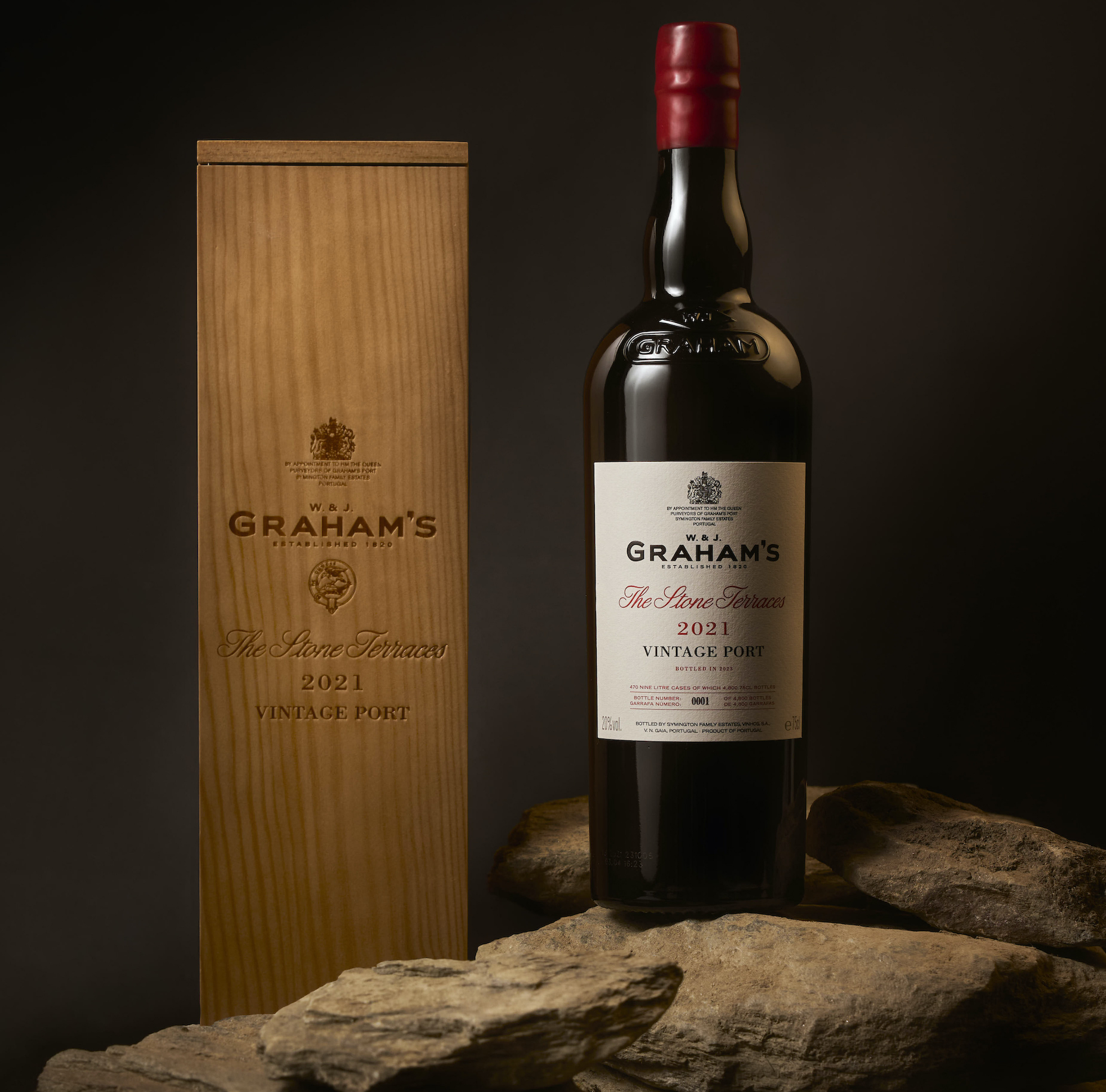 Video: Charles Symington introducing The Stone Terraces at Quinta dos Malvedos
We are thrilled to announce The Stone Terraces 2021 Vintage Port.
When reviewing the top wines made at Graham's four estates in 2021, we were simply astonished by the three-hectare stone terraces at Graham's Quinta dos Malvedos. These low-yielding vines delivered wines with a deep inky purple colour, pin sharp acidity, and wonderfully fresh scented tropical aromas – characteristic of these unique terraces.
We have taken the very rare decision to bottle the wine from these magnificent vineyards as The Stone Terraces 2021 Vintage Port and release the wine in 2023. This is just the fifth time that our family have made this micro-terroir Vintage Port – following 2011, 2015, 2016 and 2017.
Meticulously reconstructed after being abandoned in the aftermath of phylloxera in the late 19th century, the stone terraces at Quinta dos Malvedos were designed to produce ports of exceptional concentration and power, using viticultural techniques that have barely changed for hundreds of years.
While Malvedos is predominantly south-facing, the stone terraces are comprised of two vineyards with cooler aspects – the 'Port Arthur' vineyard has an east and west-facing plot, while the 'Vinha dos Cardenhos' faces north. The schist walls of the stone terraces have a remarkable ability to store the sun's daytime heat through the night, which creates gradual and homogenous grape ripening. This effect – together with their orientations – are why these vineyards have long been prized for delivering wines with such a distinct profile.
The stone terraces are predominantly planted with mature Touriga Nacional with a few younger plantings of Touriga Franca, Sousão and Alicante Bouschet. In 2021, the grapes from these vines were picked at the same time from September 18th and co-fermented together to enhance complexity, structure, and freshness. The cooler growth cycle and the rainfall at the beginning and middle of the harvest contributed to above-average yields – with the Touriga Nacional producing just over 1kg per vine (10-year average: 880 grams per vine) – delivering wines of extraordinary elegance.
The Stone Terraces 2021 Vintage Port has incredibly fresh and lifted aromas with the hallmark tropical fruit character. The wine is concentrated whilst being supremely refined with polished tannins and taut acidity combining to deliver sublime elegance and balance. This is another extraordinary edition of The Stone Terraces Vintage Port which delights the senses now and will age beautifully for decades.
The Stone Terraces 2021 Vintage Port is a special bottling of only 4,800 75cl bottles and 280 tappit hens (225cl) – this represents just 2% of the total production at Quinta dos Malvedos in 2021.